Journal of Clinical Imaging Science
Review Latest Developments in the field of  Imaging Science.
The Journal of Clinical Imaging Science (JCIS) is an open access peer-reviewed journal committed to publishing high-quality articles in the field of Imaging Science.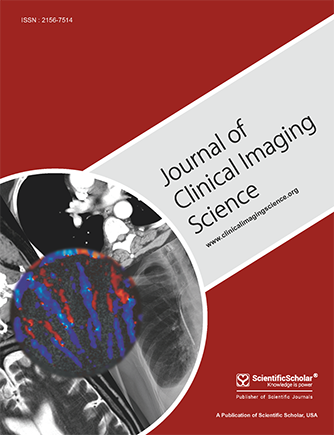 Abstracting and Indexing Information
The journal is registered with the following abstracting partners:
EBSCO Publishing's Electronic Databases, Google Scholar, Crossref, Open Academic Journals Index (OAJI), Directory of Research Journals Indexing (DRJI), Eurasian Scientific Journal Index, Scientific Indexing Services (SIS) and Index Copernicus International World of Journals (ICI), International Committee of Medical Journal Editors (ICMJE).
The journal is indexed with:
PubMed Central, Scimago Journal Ranking, SCOPUS, Web of Science and Index Copernicus.
Latest Published Articles
Arifur N. Rahman, Mohammad Shokouh-Amiri, Elizabeth Wiley, Lauren Green
J Clin Imaging Sci 9 (50) (18th November, 2019)
Gopal R. Vijayaraghavan, Adrienne Newburg, Srinivasan Vedantham
J Clin Imaging Sci 9 (53) (18th November, 2019)
Benjamin V. Park, Ron C. Gaba, Yu-Hui Huang, Yi-Fan Chen, Grace Guzman, R. Peter Lokken
J Clin Imaging Sci 9 (52) (18th November, 2019)
Lela Okromelidze, Erik H. Middlebrooks, Alok A. Bhatt
J Clin Imaging Sci 9 (51) (18th November, 2019)