Unusual Patterns of Thoracic Metastasis of Urinary Bladder Carcinoma
Address for correspondence: Dr. Oleg Epelbaum, Division of Pulmonary, Critical Care, and Sleep Medicine, Westchester Medical Center, New York Medical College, Valhalla, NY, USA. E-mail: oleg.epelbaum@wmchealth.org
Received: , Accepted: ,
Copyright: © 2017 Journal of Clinical Imaging Science
Licence
This is an open access article distributed under the terms of the Creative Commons Attribution-NonCommercial-ShareAlike 3.0 License, which allows others to remix, tweak, and build upon the work non-commercially, as long as the author is credited and the new creations are licensed under the identical terms.
Disclaimer:
This article was originally published by Medknow Publications & Media Pvt Ltd and was migrated to Scientific Scholar after the change of Publisher; therefore Scientific Scholar has no control over the quality or content of this article.
Abstract
Urinary bladder carcinoma (UBC) is the ninth most common malignancy and the second most common urological malignancy after prostate cancer in men. Thoracic metastases occur in more than half of those with muscle-invasive disease, and these generally assume the form of multiple solid parenchymal lesions characteristic of hematogenous seeding of the lung. Unusual patterns of thoracic spread of UBC have also been described albeit sporadically in the form of case reports and series. The aim of our case series is to provide illustrations of several atypical patterns of thoracic involvement by UBC such as isolated mediastinal lymphadenopathy, cavitary lung metastases, malignant pleural effusion, endobronchial disease, and pulmonary tumor embolism. This review is meant to highlight the intersection of the fields of urological oncology and thoracic radiology in the care of patients with UBC.
Keywords
Urinary bladder carcinoma
transitional cell carcinoma
thoracic metastasis
urothelial cell carcinoma

I
ntroduction
Urinary bladder carcinoma (UBC), also known as transitional cell carcinoma of the urinary system, is the ninth most common cancer worldwide and afflicts men much more often than women. In the United States, the estimated annual prevalence of UBC is close to 600,000 and the annual incidence is over 60,000.[1] It is primarily a smoking-related malignancy in Western countries.[2] UBC can be divided into two distinct phenotypes based on propensity for invasion.[3] Approximately, 80% of cases present with low-grade exophytic papillary lesions that are amenable to local resection and although prone to recurrence generally remain localized. The other phenotype is that of muscle-invasive disease, which can be confined to the bladder but produces distant metastases in up to 70% of patients.[4] Liver (47%), lung (45%), and bone (32%) are the three most frequent sites of distant spread.[5] The typical pattern of thoracic metastases from UBC is that of multiple randomly distributed solid lung nodules characteristic of hematogenous dissemination [Figure 1]. Diffuse osseous metastases affecting the ribs or thoracic vertebrae also occur frequently. While radical cystectomy remains the standard approach to the treatment of nonmetastatic muscle-invasive disease in operative candidates, cisplatin-based chemotherapy has been the traditional choice for metastatic UBC. Recently, the combination of gemcitabine and docetaxel has shown promising results as the second-line treatment of metastatic UBC, particularly in cases with lung involvement.[6] Curative pulmonary metastasectomy of small solitary metastatic lesions has been reported to yield 5-year progression-free survival of about 25%.[7]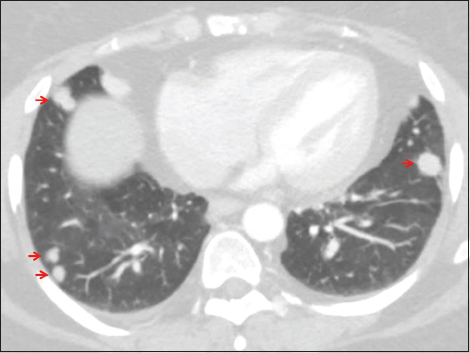 Various unusual patterns of thoracic metastases from UBC have been reported as individual cases or small series. Herein, we illustrate and discuss such atypical manifestations using representative cases from our institutions.
S
ummary
In this case series, we have illustrated examples of metastatic UBC occurring in all five compartments of the thorax: the mediastinum, the lung parenchyma (where it is capable of causing cavitation), the pleural space, the airway lumen, and the pulmonary vasculature. As UBC and primary lung carcinoma are both predominantly smoking-related malignancies, they afflict a similar patient demographic, and therefore, it is important to be aware of the differences and similarities in the behavior of the two malignancies in the chest. It is our hope that this case-based presentation will prompt consideration of metastatic UBC to the thorax in the appropriate clinical setting, even when it manifests atypically.
Financial support and sponsorship
Nil.
Conflicts of interest
There are no conflicts of interest.
Show Sections