Translate this page into:

doi:
10.4103/2156-7514.97747
Training for Rural Radiology and Imaging in Sub-Saharan Africa: Addressing the Mismatch Between Services and Population
Department of Radiology, Ernest Cook Ultrasound Research and Education Institute (ECUREI), Kampala, Uganda
Address for correspondence: Dr. Michael G Kawooya, ECUREI, c/o Mengo Hospital, Albert Cook Road, Albert Cook Building, P.O. BOX 7161 Kampala, Uganda. E-mail: kawooyagm@yahoo.co.uk
Received: , Accepted: ,
Copyright: © 2012 Kawooya MG.
Licence
This is an open-access article distributed under the terms of the Creative Commons Attribution License, which permits unrestricted use, distribution, and reproduction in any medium, provided the original author and source are credited.
Disclaimer:
This article was originally published by Medknow Publications & Media Pvt Ltd and was migrated to Scientific Scholar after the change of Publisher; therefore Scientific Scholar has no control over the quality or content of this article.
Conflict of Interest: None declared.
Abstract
The objectives of this review are to outline the needs, challenges, and training interventions for rural radiology (RR) training in Sub-Saharan Africa (SSA). Rural radiology may be defined as imaging requirements of the rural communities. In SSA, over 80% of the population is rural. The literature was reviewed to determine the need for imaging in rural Africa, the challenges, and training interventions. Up to 50% of the patients in the rural health facilities in Uganda may require imaging, largely ultrasound and plain radiography. In Uganda, imaging is performed, on an average, in 50% of the deserving patients in the urban areas, compared to 10–13 % in the rural areas. Imaging has been shown to increase the utilization of facility-based rural health services and to impact management decisions. The challenges in the rural areas are different from those in the urban areas. These are related to disease spectrum, human resource, and socio-economic, socio-cultural, infrastructural, and academic disparities. Countries in Sub-Saharan Africa, for which information on training intervention was available, included: Uganda, Kenya, Tanzania, Rwanda, Zambia, Ghana, Malawi, and Sudan. Favorable national policies had been instrumental in implementing these interventions. The interventions had been made by public, private-for-profit (PFP), private-not-for profit (PNFP), local, and international academic institutions, personal initiatives, and professional societies. Ultrasound and plain radiography were the main focus. Despite these efforts, there were still gross disparities in the RR services for SSA. In conclusion, there have been training interventions targeted toward RR in Africa. However, gross disparities in RR provision persist, requiring an effective policy, plus a more organized, focused, and sustainable approach, by the stakeholders.
Keywords
Rural
radiology
Sub-Saharan Africa
training
INTRODUCTION

Rural radiology is, for purposes of this article, defined as radiology services to communities, residing in areas very isolated from the urban areas. For many Sub-Saharan African (SSA) countries, over 80% of the population is rural.[1] The global health goals cannot be met unless key health needs facing the majority of the world's population are addressed.[23] For a majority of the SSA countries, human resource shortage is the limiting factor to attaining the millennium development goals.[45] Introduction of imaging services in some rural communities has led to increased utilization of facility-based health services,[67] Imaging has also been shown to impact management decisions.[89]
In general, most countries in SSA have few or no radiologists [Table 1], and the majority of these are deployed in the cities and metropolitan areas.[10]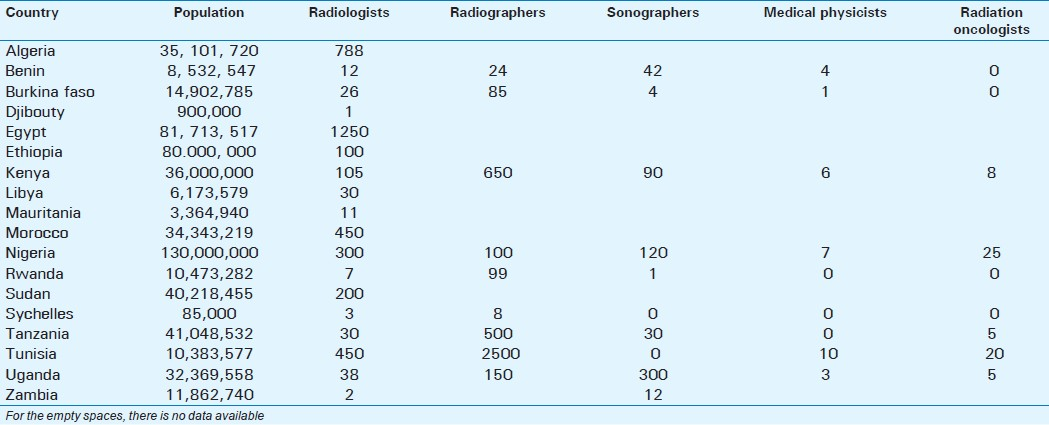 Several players, including national governments, training institutions, and professional bodies have designed interventions for rural radiology (RR).
The objectives of this article are to: Outline the need for RR in SSA, highlight the challenges facing RR training, list the training interventions, evaluate their effectiveness, and propose future strategies.
The more commonly used intervention has been in-service training, to allow for multitasking. This approach takes a shorter time and is cheaper, besides, the trainee already has some basic biomedical sciences and clinical knowledge. Through such in-service training, skills like ultrasound and film interpretation, which are the most needed in rural areas, have been taught. There are, however, disadvantages of this in-service training. There is no increase in the total number of health workers, as such, although there is an increase in the number of those providing RR services. The health worker, who is multitasking may be overloaded by the additional imaging tasks, and this may impinge on the overall performance. Third, the multitasking health worker may change preference to the newly acquired imaging role and neglect the earlier role, thereby creating a deficit in another critical health service area. There are additional challenges in learning new skills, as the health workers often have insufficient foundational knowledge in biomedical sciences, which are necessary for acquiring imaging skills.[11]
Other innovative ways to deal with disparities in human resource for health in rural areas have included scaling up of pre-service training that targets rural health. This is being tried in India, although with some resistance.[1213] This method will be effective, but will take a longer time to produce the required number of rural workers.
Uganda
Uganda's developments in training for RR are guided by the country's health policy. Uganda has a National Health Equipment Policy,[14] which spells out the type and specification of equipment at each health level. As per this policy, there should be an ultrasound machine at the primary health care level (Health Centre 4), serving every 100,000 patients, and one X-ray machine at the level of a General Hospital, serving 200,000 – 300,000 patients. The routine practice is to couple equipment supply and rural health units with a training component. Through such an arrangement, over 300 non-physician health workers from rural areas have been trained in ultrasound and up to 25 in plain x-ray film interpretation, at the Ernest Cook Ultrasound Research and Education Institute (ECUREI), a private health training institution. Uganda's Private–Public partnership policy provided the framework for this training.[15]
Uganda, however, has one unfavorable policy, which negatively impacts rural health provision, including provision of imaging services. The country sets a ceiling on its health budget, with a result that only 30% of the budget for health is funded, and this impacts the training and service provision for rural imaging, consequently, only about 30% of the imaging needs are covered by the existing budget.[16]
Tanzania
The major developments in training for rural imaging in Tanzania have partly been through foreign, private initiatives. The Kilimanjaro Christian Medical College (KCMC), which trains assistant medical officer (AMO) radiologists for rural Tanzania, is a private Faith-Based Medical University. Ultrasound training in Zanzibar and Pemba is also a private initiative. The foreign-driven rural training interventions in Tanzania and Pemba contrast with the local initiatives in Uganda. Local initiatives are more likely to be sustainable compared to the foreign ones, which sometimes result in overdependence.
Kenya, Rwanda, Sudan, Zambia, and Ghana
Training for rural imaging in these countries has been through government projects. Often, the training ceases or significantly ebbs at closure of the project. For training interventions of projects to be sustainable, they have to become institutionalized and locally owned.
The need for rural imaging in Sub-Saharan Africa
Approximately 500 / 1000 patients seen per year, in the rural health facilities in Uganda may require imaging, largely ultrasound and plain radiography.[8] The need for ultrasound and plain radiography in rural communities has been noted in other publications.[917–23]
Need for more sophisticated imaging like computed tomography (CT), magnetic resonance imaging (MRI) and radionuclide imaging is less.[1724]
Fifty-six percent of patients requiring imaging services in urban areas are imaged compared to 10–13% in rural areas.[8] Currently, up to 90% of the people living in rural Uganda, who would benefit from ultrasound are not scanned,[8] and it is estimated that 90% of the plain X-ray films from rural areas carry no imaging report. The situation may be similar in other SSA countries.
CHALLENGES OF HEALTH SERVICE PROVISION FOR RURAL COMMUNITIES
The challenges for RR in rural communities are very different from those in urban communities. These are related to human resource, and the socioeconomic, sociocultural, infrastructural, and academic disparities, albeit with a more complex disease spectrum and lower prioritization for imaging.
TRAINING INTERVENTIONS FOR RURAL RADIOLOGY IN SUB-SAHARAN AFRICA
The interventions which will be described in this section are those that have specifically targeted RR. These do not include training at urban-based institutions, which do not have a specific agenda for rural health. This section will highlight interventions in eight SSA countries namely: Uganda, Kenya, Tanzania, Rwanda, Zambia, Malawi, Sudan, and Ghana.
Contributions by global, regional, and local professional societies
The World Federation of Ultrasound in Medicine and Biology (WFUMB) has facilitated ECUREI, to offer ultrasound courses. WFUMB has also run several short ultrasound workshops, in conjunction with the Mediterranean and African Society of Ultrasound (MASU) and various national ultrasound societies. Countries where WFUMB and MASU have been active are Uganda, Kenya, Tanzania, Sudan, Tunisia, Libya, and Morocco.
THE WAY FORWARD: RESPONSIBILITY OF THE STATE AND TRAINING INSTITUTIONS
Meeting the training needs of rural communities is largely the responsibility of the state, and not a primary mandate for academic institutions, but from a moral–ethical viewpoint, these institutions should actively engage in training for rural health.[183940] Professional societies and research institutions also have a moral obligation.
Teleradiology is increasingly being suggested as a solution for providing imaging services to underserved communities,[4142] but this may be too expensive for SSA.[43] Furthermore, tele-ultrasound, although promising, is still under investigation. Rural areas in Africa have poorer coverage of their imaging burdens and the health services are less efficient in comparison to urban areas. Training focussed on scaling up the numbers of human resource for imaging in these rural areas is key in increasing coverage and health-systems efficiency.[844]
CONCLUSIONS AND RECOMENDATIONS
There is a need to address imaging for rural SSA communities, who form over 80% of the population and whose imaging needs are largely ultrasound and plain film interpretation. The interventions so far have not adequately catered to these immense imaging needs. Meeting the imaging needs of rural communities is primarily the responsibility of the state. There is a need for a policy by governments in Africa toward RR. Training lower cadres or non-physicians for multitasking is one approach, but it has its disadvantages. Formal pre-service training targeted toward RR has to be explored and training institutions have a moral obligation to conduct this.
REFERENCES
Republic Of Uganda. Uganda Demographic and Health Survey.

2006

High-Level-Forum-For-MDGs. In:

Addressing Africa's Health Workforce Crisis: An Avenue for Action.

2004.

United-Nations. Millennium development goals.

Geneva:

The United Nations

; 2000.

WHO. The World Health Report.

Geneva:

WHO

; 2000.

The Wolrd Health Report 2006.

Geneva:

WHO

; 2006.

Ultrasound Med Biol

. 2010;36:

1267

-

72

.

Focused martenal ultrasound by midwives in rural Zambia.

Reprod Health Matters

. 2005;13:

147

-

54

.

Syrian women's perceptions and experiences of ultrasound screening in pregnancy: Implications for antenatal policy.

J Clin Imaging Sci

. 2011;1:

53

.

Assessing the diagnostic Imaging needs for five selected hospitals in Uganda.

Trop Doct

. 2008;38:

125

-

6

.

A two-level ultrasonographic service in a maternity care unit of a rural district hospital in Tanzania.

Acad Radiol

. 2010;17:

392

-

8

.

Evaluation of US training for the past 6 years at ECUREI, the World Federation for Ultrasound in Medicine and Biology (WFUMB) Centre of Excellence, Kampala, Uganda.
India decides to train non-medical rural healthcare providers.

Indian J Med Ethics

. 2010;7:

2

.

The new rural doctor: Qualified quack or appropriate healthcare provider?

Ministry Of Health Uganda. National Health Equipment Policy Document.

Uganda:

Ministry Of Health

; 2005.

Health Policy Dev J

. 2010;5:

48

-

56

.

Public Private Partnership for Health in Uganda: Will HSSP II Deliver on the Expections?
Budget ceilings and health in Uganda.

London:

Saunders Ltd

; 2009.

Trends in Radiology and Imaging Service in the Tropics.
Role of imager in developing world.

Trop Med Int Health

. 2001;6:

1023

-

31

.

Feasibility of an ultrasound service on district health care in Botswana.

Am J Trop Med Hyg

. 1999;60:

119

-

23

.

Ultrasonography as an aid to diagnosis and treatment in a rural African hospital: A prospective study of 1,119 cases.

J Ultrasound Med

. 2008;27:

1735

-

43

.

Utility of portable ultrasound in a community in Ghana.

Int J Emerg Med

. 2008;1:

261

-

6

.

Introduction of a portable ultrasound unit into the health services of Lugufu refugee camp, Kigoma District, Tanzania.

J Contin Educ Health Prof

. 2010;21:

140

-

9

.

Rural and remote Australian general practitioners' educational needs in radiology.

WHO. Future use of new imaging technologies in developing countries. Report of a WHO Scientific Group.

1984:

1

-

64

.

WHO. Increasing access to health workers in remote and rural areas through improved retention.

Geneva:

WHO

; 2009.

Uganda 2002 Population and Housing census special analysis on health workers considered by the EU DHRH Project.

MInistry Of Health Uganda. Ministry of Health [Uganda] In:

Human Resource Inventory.

Uganda:

Ministry of Health

; 2004.

AJR Am J Roentgenol

. 1979;132:

339

-

44

.

Diagnostic radiology: Geography of a high technology.
Australian radiology workforce report. Workforce advisory Board, Royal Australian and New Zealand College of Radiologists.

United-Nations. Policy issues for the Escap region: Balanced development of Urban and rural areas and regions within the Countries of Asia and the Pacific. In:

United Nations Economic and Social Council.

2001.

Aust J Rural Health

. 2002;10:

168

-

72

.

Challenges to rural medical education: A student perspective.
Public Health in Africa: A report of the CSIS Global Health Policy Centre.

Willem-Van-Proiijen. The Dutch approach to healthcare development aid.

2010

AJR Am J Roentgenol

. 2010;189:

119

-

22

.

Sonographic Training Program at a District Hospital in a Developing Country: Work in Progress.

Int J Emerg Med

. 2008;1:

193

-

6

.

Development of an ultrasound training curriculum in a limited resource international setting: Successes and challenges of ultrasound training in rural Rwanda.

WFUMB. Report from Mediterranean and African Society of Ultrasound, MASU.

2008

AJR Am J Roentgenol

. 1978;130:

221

-

2

.

Accounting to society: Radiologic concern to patient care.

AJR Am J Roentgenol

. 1992;160:

195

-

201

.

The impact of new imaging technology on worldwide health care, research, and teaching: Fifth international symposium.

Med J Aust

. 2009;190:

20

-

3

.

The changing face of radiology: From local practice to global network.

J Rural Health

. 2010;13:

136

-

44

.

Rural Radiology: Who is Producing Images and Who is Reading Them?
Radiology services for remote communities: Cost minimisation study of telemedicine.

J Clin Imaging Sci

. 2012;2:

12

.

Assessing the performance of imaging health systems in five selected hospitals in Uganda.
Show Sections