Translate this page into:

doi:
10.4103/jcis.JCIS_40_18
Amyotrophic Lateral Sclerosis and its Mimics/Variants: A Comprehensive Review
Department of Neuroradiology and Neurointervention, Stanford University, Palo Alto, California, USA
1
Department of Radiology, Advocate Illinois Masonic Medical Center, Chicago, Illinois, USA
Address for correspondence: Dr. Vivek S Yedavalli, Department of Neuroradiology and Neurointervention, Stanford University, 300 Pasteur Drive, S047 Palo Alto, California 94305, USA. E-mail: vyedav86@stanford.edu
Received: , Accepted: ,
Copyright: © 2018 Journal of Clinical Imaging Science
Licence
This is an open access journal, and articles are distributed under the terms of the Creative Commons Attribution-NonCommercial-ShareAlike 4.0 License, which allows others to remix, tweak, and build upon the work non-commercially, as long as appropriate credit is given and the new creations are licensed under the identical terms.
Disclaimer:
This article was originally published by Medknow Publications & Media Pvt Ltd and was migrated to Scientific Scholar after the change of Publisher; therefore Scientific Scholar has no control over the quality or content of this article.
Abstract
Motor neuron diseases (MNDs) are a debilitating subset of diseases, which result in progressive neuronal destruction and eventual loss of voluntary muscular function. These entities are often challenging to distinguish and accurately diagnose given overlapping clinical pictures and overall rarity. This group of diseases has a high morbidity and mortality rate overall and delineating each type of disease can help guide appropriate clinical management and improve quality of life for patients. Of all MNDs, amyotrophic lateral sclerosis (ALS) is by far the most common comprising 80%–90% of cases. However, other mimics and variants of ALS can appear similar both clinically and radiographically. In this review, we delve into the epidemiological, physiological, neuroimaging, and prognostic characteristics and management of ALS and its most common MND mimics/variants. In doing so, we hope to improve accuracy in diagnosis and potential management for this rare group of diseases.
Keywords
Amyotrophic lateral sclerosis
postpolio syndrome
primary lateral sclerosis
progressive bulbar palsy
progressive muscular atrophy
spinal and bulbar muscular atrophy

I
NTRODUCTION
Motor neuron diseases (MNDs) are a group of diseases which result in progressive destruction of neurons and gradual deterioration of voluntary muscle function, leading to high mortality and morbidity.[12] The average incidence of MNDs is 1–3 cases per 100,000. The prevalence of MND ranges from 1 to 9 cases per 100,000 worldwide. Of this group, amyotrophic lateral sclerosis (ALS) is by far the most common, comprising roughly 80%–90% of MND cases.[3] However, studies have shown at least a 10% error in diagnosis of ALS.[4] ALS and MND, in general, present with nonspecific symptoms such as limb weakness, fasciculations, and fatigue, which can comprise both classic upper/bulbar and lower motor neuron clinical symptoms. In addition, there are no reliable markers to differentiate ALS from other forms of MND, leading to diagnostic dilemmas.
Neuroimaging in conjunction with the clinical picture aids in differentiating subtypes of MND, especially with stratifying upper versus lower MND processes. It is of utmost importance to accurately diagnose and differentiate ALS from its mimics. Delayed diagnosis and treatment can lead to long-term neurological sequelae with far-reaching clinical complications. In this review, our objective is to elucidate the epidemiological, physiological, neuroimaging, and prognostic characteristics of ALS and its most common MND mimics/variants [Table 1].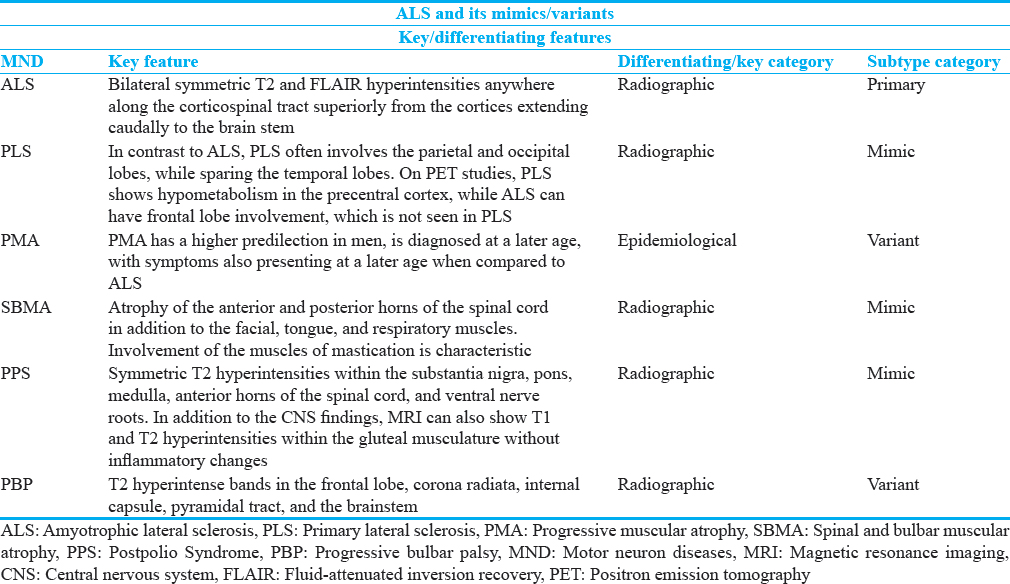 A
MYOTROPHIC

L

ATERAL

S

CLEROSIS
P
RIMARY

L

ATERAL

S

CLEROSIS
P
ROGRESSIVE

M

USCULAR

A

TROPHY
S
PINAL AND

B

ULBAR

M

USCULAR

A

TROPHY
P
ROGRESSIVE

B

ULBAR

P

ALSY
Epidemiology
Progressive bulbar palsy (PBP) is a rapid-onset MND characterized by bulbar symptoms such as difficulty with neck extension, chewing, swallowing, and talking due to weakness of the oral and facial muscles.[63] It can manifest as upper or lower MND and is considered by some to be the bulbar variant of ALS, similar to the lower MND, PMA, which was previously discussed. PBP is seen in 4.1% of MND cases overall, with the highest incidence from ages 51 to 60 years.[64] PBP is more common in elderly women.[56] This disease has a mean survival time of 35–40 months after diagnosis.[65] A rapidly fatal infantile form called Fazio Londe Syndrome (FLS), characterized by cranial nerve palsies and generalized muscle weakness, has also been reported.[66] Case reports also show a similar childhood form, termed Brown-Vialetto-Van Laere Syndrome (BVVL), characterized by sensorineural deafness and ponto-bulbar palsy, resulting in dysarthria and dysphagia.[67] Of note, it is important to distinguish PBP from pseudobulbar palsy, which is a different entity altogether.
Pathophysiology
The pathophysiology of PBP is poorly understood. The childhood forms, FLS and BVVL, are associated with genetic mutations in the SLC52A genes, which encodes a riboflavin transporter and results in a riboflavin deficiency.[68] This can be corrected with riboflavin supplementation.[68] BVVL is also associated with a mutation in the C20orf54 gene. These genetic forms can have both autosomal recessive and/or autosomal dominant inheritance patterns.[69] The adult form of PBP is considered a part of the familial subset of ALS and has been linked previously to mutations in the SOD1 gene, which results in a defective copper/zinc superoxide dismutase protein.[7071]
Neuroimaging
Neuroimaging, particularly MRI, can play a role in diagnosis of PBP. PBP can have nearly identical MRI manifestations to ALS as it is considered by some to be a bulbar variant. In FLS, there are subtle but diffuse subcortical and deep white matter T2 hyperintensities without restricted diffusion.[68] In the adult form, MRI can show T2 hyperintense bands in the frontal lobe, corona radiata, internal capsule, pyramidal tract, and the brainstem [Figure 6]. These findings can appear similar to ALS and are challenging to differentiate.[72]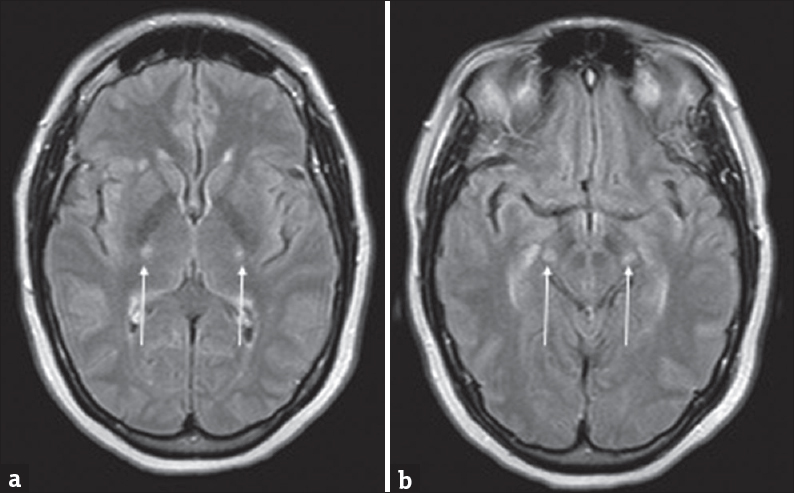 Clinical management
Most patients with PBP progress to ALS and prognosis is considered poor as there is no known cure. Mean survival is approximately 40 months after diagnosis.[65] As discussed previously, treatment with riboflavin shows benefits in BVVL.[69] Treatment for the adult form focuses on symptomatic relief of the bulbar symptoms, similar to other MNDs.
Financial support and sponsorship
Nil.
Conflicts of interest
There are no conflicts of interest.
Show Sections