Translate this page into:

Neuroradiology/Head and Neck Imaging
doi:
10.25259/JCIS_91_2020
Imaging of Non-atherosclerotic Vasculopathies
1
Department of Radiology

,

University Texas Southwestern, Dallas

,

Texas
2
Department of Radiology

,

University of Iowa, Iowa City

,

Iowa
3
Department of Radiology

,

Penn State Health, Hershey, Pennsylvania

,

United States

*
Corresponding author: Amit Agarwal, Department of Radiology, University Texas Southwestern, 5323 Harry Hines, Dallas 75390, Texas, United States. amitmamc@gmail.com
Received: , Accepted: ,
© 2020 Published by Scientific Scholar on behalf of Journal of Clinical Imaging Science
Licence
This is an open-access article distributed under the terms of the Creative Commons Attribution-Non Commercial-Share Alike 4.0 License, which allows others to remix, tweak, and build upon the work non-commercially, as long as the author is credited and the new creations are licensed under the identical terms.
How to cite this article: Agarwal A, Bathla G, Kanekar S. Imaging of nonatherosclerotic vasculopathies. J Clin Imaging Sci 2020;10:62.
Abstract
Non-atherosclerotic vasculopathies (NAVs) may present with various neurological symptoms ranging from headache, stroke, visual symptoms, and various types of intracranial hemorrhage. NAVs result from different etiologies which include collagenopathies, immunological, hematological, and infection mechanisms, and other rarer unidentifiable or idiopathic causes. NAV etiologies account for about 10–15% and 20–25% of adult and pediatric stroke cases, respectively, and therefore, diagnosing the underlying cause of NAV becomes clinically very important. Clinical diagnosis of NAV is challenging because the clinical presentation is very non-specific and overlapping with various other central nervous system disorders. Before the advent of non-invasive techniques, making a diagnosis of non-atherosclerotic vasculopathy as a cause of the stroke was very challenging. Today with newer techniques such as high-resolution magnetic resonance (MR), MR and computed tomography perfusion, and angiogram, there are number of pointers which can give us a lead about the non-atherosclerotic causes. Imaging may provide the first lead to the clinician regarding the diagnosis or possible differential diagnosis so that the targeted and focused biomarkers (blood, cerebrospinal fluid, or/and in some cases biopsies) may be obtained to clinch the diagnoses. The purpose of the article is to enumerate the causes, clinical features, and illustrate the imaging findings of the various non-atherosclerotic vasculopathic disorders and discuss "pearls" to their diagnosis. In this article, we have also discussed the latest advances in vascular imaging and elaborated on few uncommon non-atherosclerotic vasculopathies. These are very relevant clinically in the day-to-day practice for the radiologist, neurologist, and the neurointerventionalist.
Keywords
Vasculopathy
Angiogram
Computed tomography angiography
Magnetic resonance angiography
INTRODUCTION
Non-atherosclerotic vasculopathies (NAVs) may result from various systemic or local etiologies, which include collagenopathies, immunological, hematological, hereditary, infection mechanisms, and idiopathic causes. NAV disorders can affect all the age groups childhood, middle age, and elderly patients. It may present with variety of neurological symptoms such as headache, neck pain, visual symptoms, hemorrhagic and non-hemorrhagic strokes, mono or hemiplegia, or myelopathy. NAV is a common cause of stroke in young adults and adolescents with arterial dissection accounting for approximately 2% of all ischemic strokes but about 20% of strokes in the young and middle aged.[1,2] Making a specific diagnosis of the underlying cause of NAV is clinically very challenging because of the non-specific clinical presentation.
Cross-sectional imaging, especially magnetic resonance (MR), plays a key role in the diagnosis of NAV. Documentation of the corroborative findings in the brain parenchyma on MR and vessel changes on magnetic resonance angiography (MRA) or computed tomography angiography (CTA) may support the diagnosis and the underlying cause of the disease. MR is very sensitive for identifying brain parenchymal changes, which mainly consist of small or medium size infarcts and/or microhemorrhages. CTA and MRA are very sensitive for detecting changes in the larger and medium size vessels, especially in the carotids, vertebral, and vessels around the circle of Willis. However, both these modalities lack the intrinsic resolution to diagnose the changes in smaller and tertiary branches. In these cases, conventional angiography remains the gold standard. Conventional angiogram shows non-specific findings such as occlusion and irregular narrowing, alternating with dilation and sometimes aneurysm. However, distribution and site of the vessels involved along with various parenchymal findings on imaging helps in documenting the cause and effects of many of these disorders.
High-resolution MR vessel wall imaging (VWI) is a relatively new imaging technique, which is increasingly being used across multiple centers for the evaluation of patients with suspected vasculitis and other cerebral vascular diseases such as arterial dissection, intracranial atherosclerosis, and for better characterization of aneurysms. This is usually performed in conjunction with routine time-of-flight (TOF) MR angiography and involves obtaining high-resolution 3D images with "black-blood technique." Images are acquired using high spatial and high contrast resolution techniques, preferably on a 3T magnet, usually with and without contrast. The most common indication for VWI is vasculitis (primary or secondary) with other less common indications including intracranial dissection, defining complex aneurysms, and better characterization of atherosclerotic changes. Intracranial atherosclerotic disease is defined by eccentric wall thickening, with or without enhancement, with widespread involvement of the large vessels such as distal internal carotid artery (ICA) and vertebral arteries. Vessel wall thickening is usually concentric in vasculitis with enhancement almost universally seen. Imaging response to steroid is often seen in vasculitis and expectedly absent with atherosclerotic disease. Intracranial dissection is characterized by eccentric wall thickening and enhancement with the presence of intimal flap and/or intramural thrombus. VWI is also helpful in characterization of intracranial atherosclerotic plaques, differentiation of vasculitis from reversible cerebral vasoconstriction syndrome (RCVS), and for equivocal causes of vascular narrowing.
In this article, we discuss the common causes, classification of non-atherosclerotic vasculopathy affecting the central nervous system (CNS) [Table 1] and imaging findings of various disease entities, discuss "pearls" to their diagnosis, and highlight how to differentiate between the common NAVs.
Arterial dissections
Fibromuscular dysplasia
Dilatative arteriopathy (dolichoectasia)
Cerebral amyloid angiopathy
Heritable disorders of connective tissue
Pseudoxanthoma elasticum (PXE)
Ehlers-Danlos syndrome
Marfan's syndrome
CNS vasculitides [Table 2]
Systemic vasculitides
Polyarteritis nodosa
Allergic angiitis
Granulomatosis (Churg-Strauss syndrome)
Hypersensitivity vasculitis,
Wegener's granulomatosis
Overlap syndromes
Thrombotic thrombocytopenic purpura
CADASIL
Sickle cell disease
Moyamoya syndrome
Arteritis caused by infections
Bacterial
Fungal infections
Viral infections
Parasitic infections
Radiation-induced vasculitis
Vasculopathy in drug abusers
Reversible cerebral vasoconstriction syndrome (includes drug-induced vasculopathy)
PRIMARY CNS VASCULITIS (PRIMARY ANGIITIS OF THE NERVOUS SYSTEM)
PACNS is an autoimmune vasculitis that exclusively involves CNS blood vessels, including the brain and spinal cord, in the absence of an underlying systemic disease.[45] Patients may present with headaches, TIAs, ischemic stroke, seizures, movement disorder, optic neuritis, or progressive cognitive decline or multifocal myelopathies with spinal cord involvement.
Small- and medium-sized blood vessels of leptomeninges and superficial cortical arteries of 200–300 μm diameter are commonly affected.[50] Vessels show transmural infiltrate of lymphocytes, multinucleated giant cells, and segmental granulomatous changes, leading to significant intimal thickening.
Clinical diagnosis of PACNS is very challenging due to non-specific clinical features. Although conventional angiogram is considered the gold standard, because of its invasive nature, it is less frequently performed than CTA/MRA as an initial investigation. Like any other vasculitis, T2 WI shows nonspecific features of multiple ischemic microinfarcts involving the cortical or deep gray matter, or the subcortical white matter.[51] Discrete foci of acute or chronic, cortical or subcortical hemorrhages are commonly identified on GRE/ SWI images. High-resolution contrast-enhanced T1 WI may show vessel wall enhancement. Conventional angiogram and to a lesser extent, CTA and MRA may show the "beads on a chain" appearance suggestive of focal segmental narrowing stenosis with normal caliber vessel [Figure 11a and b]. Unfortunately, this sign on angiography is neither absolutely sensitive nor specific for PACNS.[52,53]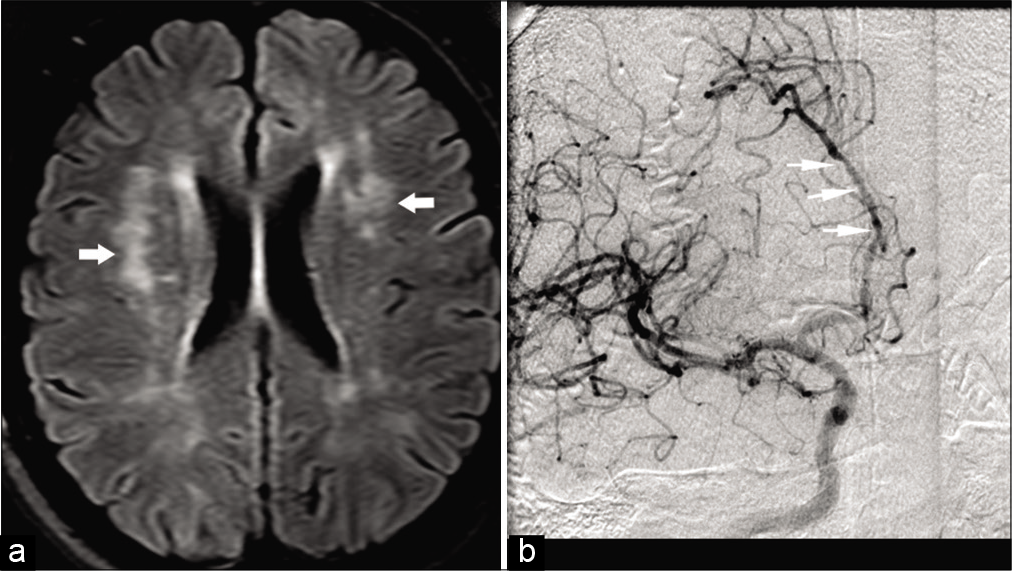 RCVS
RCVS represents a group of diverse disorders characterized by unique clinical and radiological findings with the imaging hallmark being reversible segmental vasoconstriction. This presents clinically more commonly in women, than in men, with severe thunderclap headache.[54,55] RCVS affects a wide range of demographics and races. The mean age of presentation is around 42–45 years, though other age groups, including children and older patients, can be affected. Although RCVS has been associated with numerous conditions, including pregnancy migraine, medications including vasoconstrictive drugs, no strong causal relationship has yet been established. The individual risk factors, triggers, and conditions associated with RCVS are not related and there seems to be no consensus regarding the pathogenesis of the disease. The pathophysiology is not well documented. However, it is agreed that cerebral vascular tone is altered in RCVS without pathologic changes in vascular walls. Many studies with single variables have been published to differentiate RCVS from PACNS with limited utility and applicability. In 2016, Singhal et al. proposed a set of criteria to diagnose RCVS and to differentiate it from PACNS with a specificity of 98–100% and a similarly high positive predictive value. This included recurrent thunderclap headaches or; single thunderclap headache with either normal neuroimaging study or; no thunderclap headache but abnormal angiographic findings with a normal neuroimaging study. The latter basically rules out PACNS which almost always has positive neuroimaging findings. PRES can occur as a complication of RCVS, and delayed vasoconstriction can occur as a consequence of PRES. Although PRES and RCVS have a bidirectional association with each other, they are not basically simultaneous.[56-58] Imaging findings include convexity SAH in a non-aneurysmal pattern, lobar pattern parenchymal hemorrhage, and watershed infarcts. There might be no visible vasoconstriction, especially during the early course of disease, as the condition starts distally in vessels that are not well visualized. Angiogram (CTA/MRA, catheter) shows varying degree of segmental vasoconstriction with smooth narrowing of the large- to medium-sized arteries followed by focally dilated distal cortical branches [Figure 12a-d]. High-resolution MR VWI can help differentiate RCVS from vasculitides. There is usually none to minimal enhancement of the vessel wall as compared to intense circumferential enhancement seen in other vasculitis. The imaging findings in RCVS show complete reversal within 3–6 months of onset, which is one of the important diagnostic criteria for this condition.[54-55]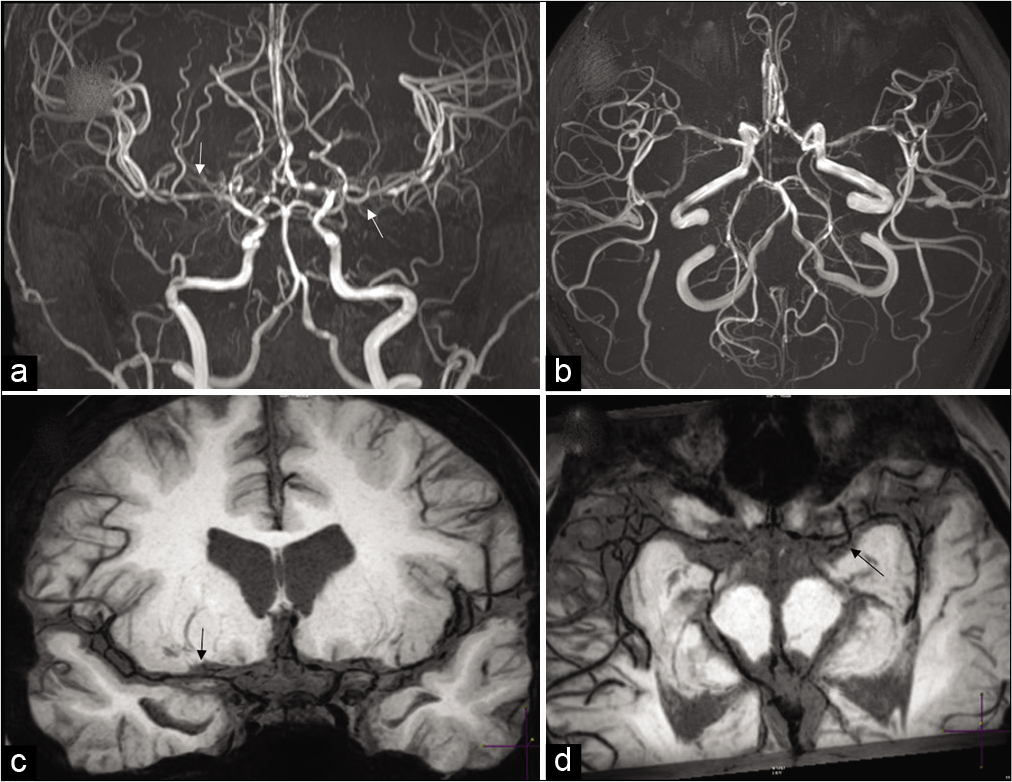 VASCULITIS ASSOCIATED WITH SYSTEMIC DISEASE
Various connective tissue disorders such as systemic lupus erythematosus (SLE), scleroderma, rheumatoid arthritis, Sjogren syndrome, mixed connective tissue disease, and Behcet disease can involve vessels. Vessel wall involvement in most of these diseases is thought to be autoimmune.
SLE is an autoimmune disease that leads to chronic inflammation of the brain parenchyma and vessels. The prevalence of CNS involvement is approximately 30–40%. Clinical features include headaches, seizures, psychosis, cognitive decline, chorea, and neuropathies. Cerebral ischemia and infarction in SLE could be due to a variety of potential mechanisms including cardiogenic embolism, lupus anticoagulant or anticardiolipin antibodies, hyperhomocysteinemia, and dissection.[59]
MRI often shows discrete focal lesions of cortical and subcortical infarcts often caused by abnormalities of coagulation and cardiac origin embolism. FLAIR and T2 WI may also show lacunar infarcts, watershed infarcts or diffuse hyperintense lesions within the deep white matter which are thought to be due to marked endothelial hyperplasia and obliterative intimal fibrosis in the small vessels of the brain, leading to occlusion, a process described as lupus angiitis or vasculitis. In addition, SLE patients may also present with dural sinus or deep venous thrombosis, especially in patients with antiphospholipid antibodies syndrome. Intracranial hemorrhage as SLE presentation may be seen in patients with uremia, thrombocytopenia, and hypertension.[60]
CEREBRAL AUTOSOMAL DOMINANT ARTERIOPATHY WITH SUBCORTICAL INFARCTS AND LEUKOENCEPHALOPATHY (CADASIL)
CADASIL is autosomal dominant mutation caused by point mutations or small deletions in the Notch 3 gene on chromosome 19p13.58. It usually affects middle-aged people without history of diabetes and hypertension. The four major symptoms seen in CADASIL include migraine with aura (20–40%), ischemic attacks (transient or strokes) (70–80%), psychiatric findings, and dementia (30–50%).[61]
Histopathology reveals thickened and granular osmiophilic material, PAS-positive material, which replaces smooth muscle cells of the media and weakens the vessel wall.[62] This leads to duplication and splitting of the internal elastic lamina, hypertrophy of the media, and fibrosis of medium size vessels.
On MR, T2 hyperintense lesions in the subcortical and deep white matter due to lacunar infarction are commonly seen in CADASIL. T2 hyperintensities in bilateral anterior temporal lobes and external capsules are a pathognomonic radiographic appearance in the appropriate clinical setting [Figure 13a and b]. Symmetric, confluent T2 hyperintense lesions may also be seen in insula, periventricular regions, centrum semiovale, basal ganglia, and brain stem. In the later stages, there is diffuse leukoencephalopathy, ex vacuo hydrocephalus, and brain atrophy.[61,62]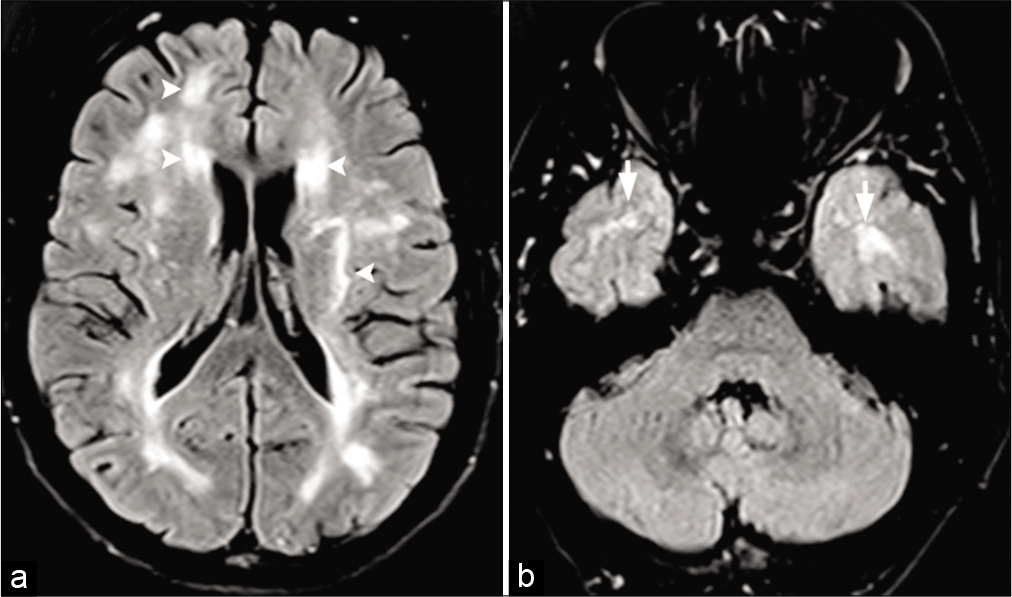 Sickle cell disease (SCD)
Vascular changes in SCD have four angiographic manifestations: Proximal arterial occlusion/stenosis, distal branch occlusion secondary to thrombosis or embolism, Moyamoya syndrome, and aneurysm. These changes are believed to be caused by damage to the intima from high-velocity blood flow, the abnormal shape of the sickle cells due to polymerization, adherence of repeated red blood cells (RBCs) to the endothelium, endothelial damage, intravascular sludge, intimal hyperplasia, and thrombosis.[63]
The incidence of brain infarction is approximately 25% and is the most severe and common complications of SCD. Stenosis of the distal intracranial ICA and proximal MCA is more common than extracranial ICA stenosis.[64,65] Intracranial velocities on Doppler >170–200 cm/sec indicate significant risk for infarction and are shown to correlate with areas of MR imaging abnormality and vessel narrowing. SCD vasculopathy may present with Moyamoya pattern progressive stenosis and occlusion of the distal ICAs and their branches. The clinical manifestations of stroke and TIAs can, however, be reduced with RBC transfusions.[66,67] Endothelial damage may also lead to aneurysm formation which is often multiple and seen mostly originate from the vertebrobasilar system. Aneurysms may manifest with subarachnoid or intraparenchymal hemorrhage. Evaluation of intracranial vessels can be done utilizing CT angiogram or TOF MR angiogram, with the latter being the modality of choice in the pediatric age group secondary to radiation concerns with CT. However, given the high flow velocities in SCD, there can be artifactual loss of flow signal at the branch points, like the carotid terminus or the tortuous cavernous segments. Contrast-enhanced MR angiogram can overcome this limitation and is now often used, especially given the fact that these segments are commonly involved in SCD.
Moyamoya
Moyamoya vasculopathy is a non-atherosclerotic, non-inflammatory, vasculopathy characterized by chronic progressive stenosis or occlusion of the cerebral vasculature with particular involvement of the circle of Willis and the arteries that feed it.[68] This progressive stenosis of the arteries around the circle of Willis leads to abnormal collateral vessels at the base of the brain which is described as Moyamoya (=puff of smoke) in Japanese.[69] Moyamoya vasculopathy secondary to associated conditions is categorized as Moyamoya syndrome. Moyamoya may be classified depending on the cause [Table 3].
Primary Moyamoya or "Moyamoya disease"

Secondary Moyamoya syndrome

Congenital disorders

Neurofibromatosis type 1

Tuberous sclerosis

Sickle cell anemia

Alpert syndrome

Marfan syndrome

Fanconi anemia

Down syndrome

Acquired diseases

Vasculitis

Infection

Thrombosis

Atherosclerosis

Trauma

Post-radiation arteriopathy
Pathologically, Moyamoya disease is characterized by proliferating intima with lipid deposits and fibrocellular thickening of the intima, waving of the internal elastic lamina, and thinning of the media. The exact pathogenesis of Moyamoya vasculopathy has been a subject of debate. Although there is definite evidence of the involvement of inflammatory proteins, this has historically not been recognized as a causative factor. Clinical signs and symptoms are mostly related to either cerebral ischemia or hemorrhage. Ischemic stroke is more common in younger patients while parenchymal hemorrhage being more frequent in older individuals.[70] MR brain may show multiple tiny dilated vessels in the region of deep gray matter nuclei which represent deep perforating collaterals, with various small and medium size areas of infarctions in the cerebral parenchyma. There may be scattered foci of micro- or macrohemorrhages. CTA/MRA of head shows stenosis or occlusion of distal ICAs and/or proximal portions of the middle and/or anterior cerebral arteries combined with an abundance of dilated, thin-walled collateral branches of the circle of Willis. A fine network of vessels at the base of the brain is seen as hazy, puff of smoke appearance. As the middle and anterior cerebral arteries become affected, there is a development of leptomeningeal, extracranial, transdural, and transosseous collaterals [Figure 14]. Prominent leptomeningeal collaterals result in high signal on FLAIR images due to slow flow, referred to as "ivy sign" giving the appearance of brain being covered with ivy [Figure 15 a-f]. This predicts good collateral status and better clinical outcome. Patients with Moyamoya vasculopathy may show rapid reduction in the diameter of the proximal ICA compared to the adjacent common carotid artery, giving the appearance of a champagne bottle neck. Perfusion studies may show severe decrease in the blood flow throughout the supratentorial white matter with increase in the mean transit time.[71]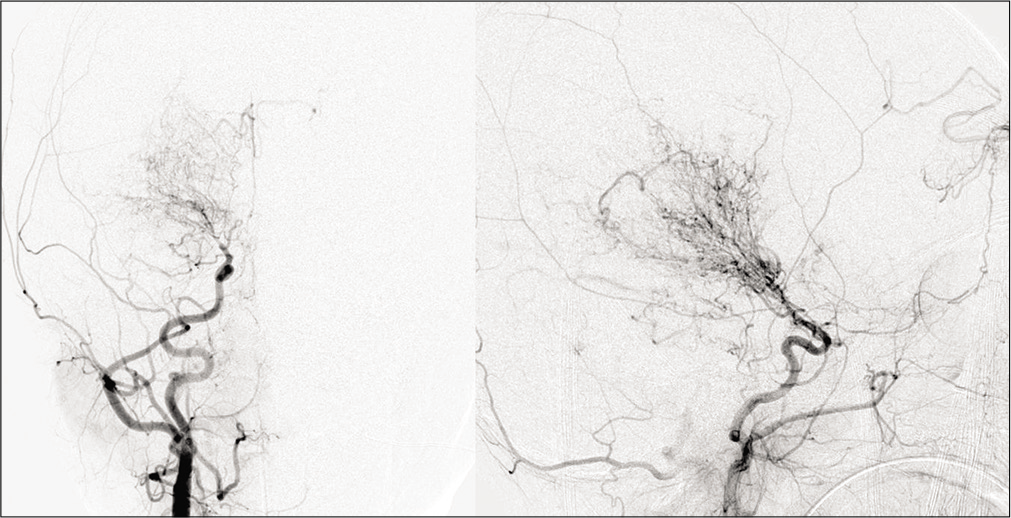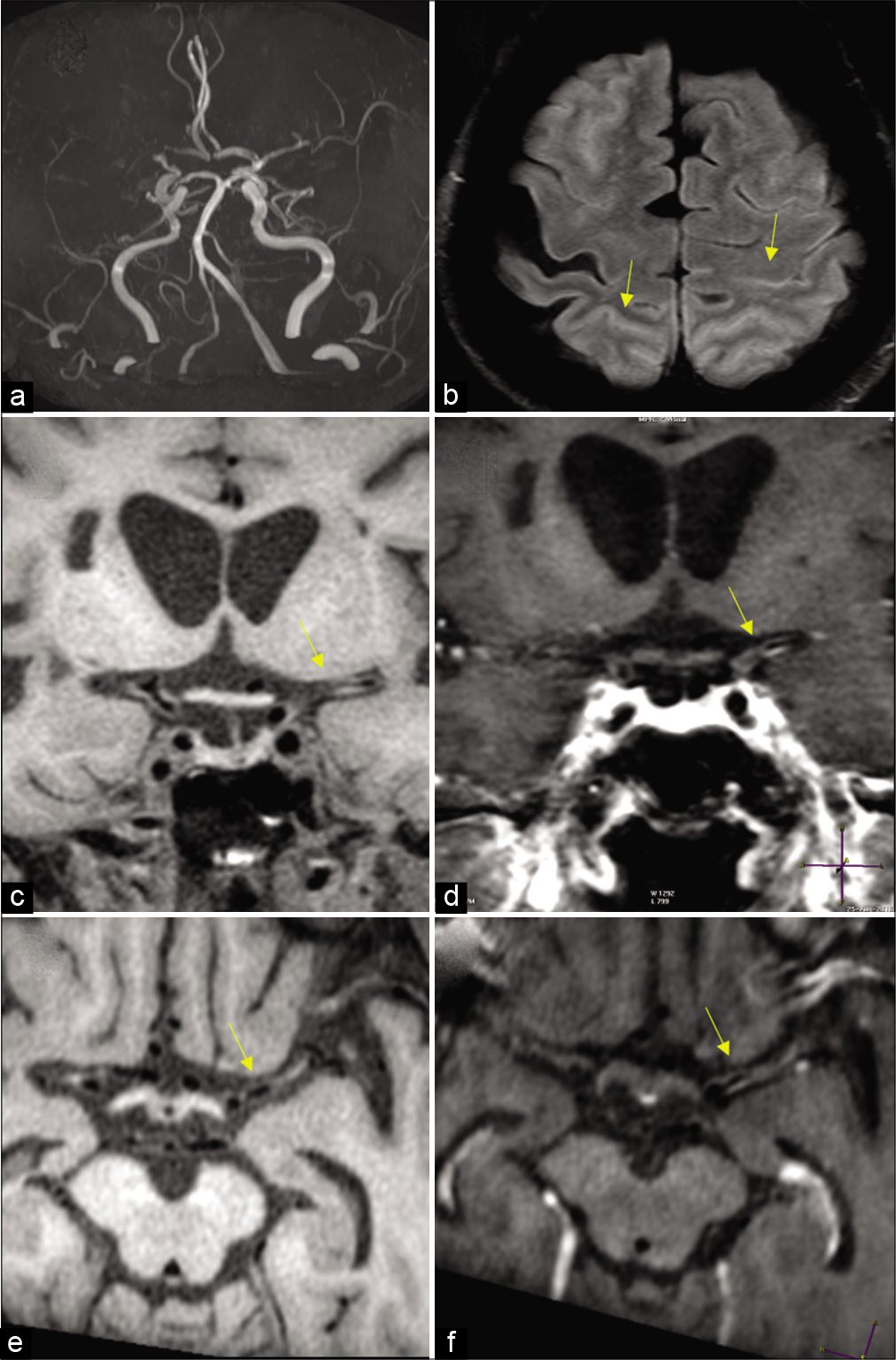 Infection-associated vasculitis
Various organisms can cause CNS vasculitis either by primary or secondary damage to the vessels. CNS vasculitis can be due to organisms directly infecting the vessel wall or damage to blood vessels as they traverse purulent exudate in cisterns and along the cerebritis bed. Secondary vessel damage could be due to post-infectious inflammatory toxins such as immunoglobulin, complement, lipoprotein, viral antigen or immune complex deposition, cold agglutinin formation, or vascular endothelial cell proliferation leading to vessel damage.
Bacterial, viral, tubercular, and fungal are all known to cause vasculitis and cerebrovascular events. Blood vessels traversing through the thick gelatinous basilar, bacterial, fungal, or tubercular exudate can develop inflammation, particularly in small- and medium-sized arteries.[72,73] Inflammation may lead to reactive subendothelial cells proliferation and stenosis of the vascular lumina, leading to large and small vessel thrombosis, cerebral infarction [Figure 16], and mycotic aneurysm.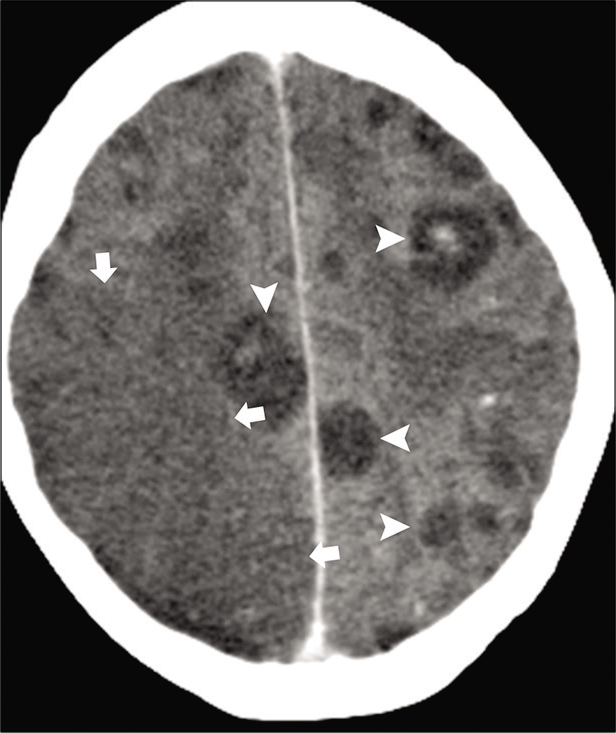 MRI may show meningeal inflammatory changes as hyperintense signal intensity in the basal cisterns and subarachnoid space on FLAIR. Gd-enhanced MRI will show thick enhancement in the corresponding sites. DWI may show changes of cerebritis, abscess formation, and associated acute brain infarction [Figure 17a and b]. Vascular narrowing or occlusion may be documented with standard MR sequences or by MRA.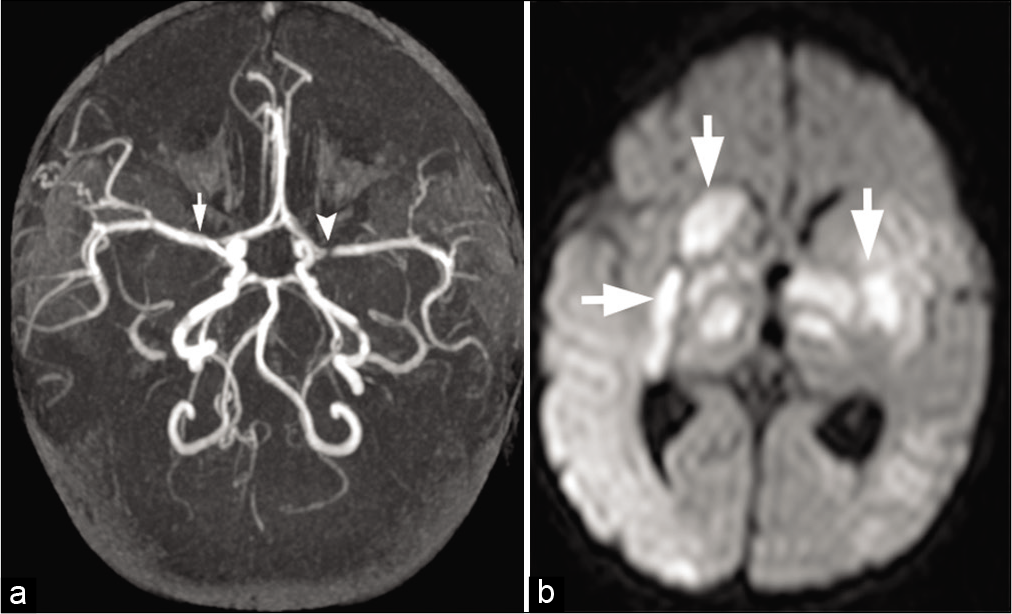 Viruses, especially the herpes zoster, are a well-known documented cause of the viral arteritides.[74] The most common clinical symptoms of herpes vasculitis is delayed brain infarction. Focal or long segment stenosis or multifocal narrowing may be seen of the small or large arteries on MRA.[75]
Radiation-induced vasculitis
Radiation-induced vasculitis is a rare, but well-documented complication in patients with a history of previous head and neck or mediastinal radiation. RT-induced vascular disease is an acceleration of the atherosclerotic process probably due to endothelial cell damage, fibrosis of the intima-media layer, and development of atheromatous plaques.[76]
On CT and MR imaging, arteritis may be seen as thickening and enhancement of the arterial wall. In the neck, RT-induced carotid artery lesions are long segments and are not confined to the bifurcation, as in atherosclerosis. In the brain, radiation-induced white matter changes are due to combination of vessel wall endothelial damage and detrimental effect on oligodendrocytes. Besides white matter T2 hyperintensities, multiple microhemorrhages are frequently seen on GRE /SWI images.[76,77]
Vasculopathy in drug abusers
The CNS is a target organ for many of the prescribed medications and drugs of abuse. Drug abuse has become an important cause of stroke in adolescents and young adults. Drugs of abuse commonly affecting the CNS include cocaine, heroin, alcohol, amphetamines, toluene, and cannabis. The CNS complications include neurovascular complications, leading to stroke, hemorrhage, encephalopathy, atrophy, and secondary infection.
CNS complications in cocaine abusers mainly include ischemic stroke, parenchymal hemorrhage, and SAH. Infarcts are thought to be due direct vasospasm, enhanced platelet aggregation, cardioembolic sources, accelerated atherosclerosis, and cerebral vasculitis.[78,79] Arterial constrictions are predominantly seen in the MCAs and PCAs following IV cocaine use. For unknown reasons, there is also a higher incidence of aneurysms and vascular malformations in cocaine addicts. On MR, acute stroke which is often multifactorial is identified on DWI, on the background of chronic diffuse white matter vasculopathic changes [Figure 18a-c].

Heroin also causes ischemia and stroke primarily due to vasospasm, vasculitis, or embolic events. Heroin-induced ischemia is due to direct effects of reversible vasospasm from stimulation of vascular smooth muscle, vasculitis secondary to an immune-mediated response, and embolic effects from crystalline impure additives.[80] RCVS now encompasses what was previously thought to be a group of distinct clinical entities, including drug-induced angiopathy (vasculopathy), drug-induced cerebral arteritis as the clinical and radiological manifestations are similar.
CORONAVIRUS DISEASE 2019 (COVID-19) VASCULOPATHY
COVID-19
COVID-19 secondary to severe acute respiratory syndrome-coronavirus-2 was declared a global pandemic on March 1, 2020. Although this primary affects the respiratory system, it is now well established that this is a multisystem disease with widespread cases of cardiac, renal, and neurological complications. The most common neurological presentation reported, has been ischemic stroke, secondary to arterial or venous thrombosis, because of the hypercoagulable state associated with COVID-19. However, the neurological manifestations can be quiet variable ranging from reversible mild demyelination to severe necrotizing encephalopathy. The virus is known to directly affect the endothelial cells through ACE2 receptors. The hypoxic status in COVID results in activation of hypoxia inducible transcription factors and downregulation of natural anticoagulants. The sum total effect is endothelial dysfunction, leading to increased blood clotting factors and a procoagulant phenotype. The affected patients are more commonly males, generally in the sixth decade of life (mean age varying between 62 and 69 years between studies). However, smaller case series of large vessel stroke in younger patients have also been reported. Hemorrhagic stroke including SAH and hemorrhagic conversion of ischemic stroke is significantly less common. Ischemic stroke is usually secondary to large vessel occlusions, involving the cervical ICA, intracranial ICA, vertebrobasilar arteries, and proximal MCAs [Figure 19a-d]. Few cases of CNS vasculitis have also been reported, however, as the focus is usually on clinical stabilization, the threshold for performing imaging studies is high and definitive diagnosis can often not be made.[81,82]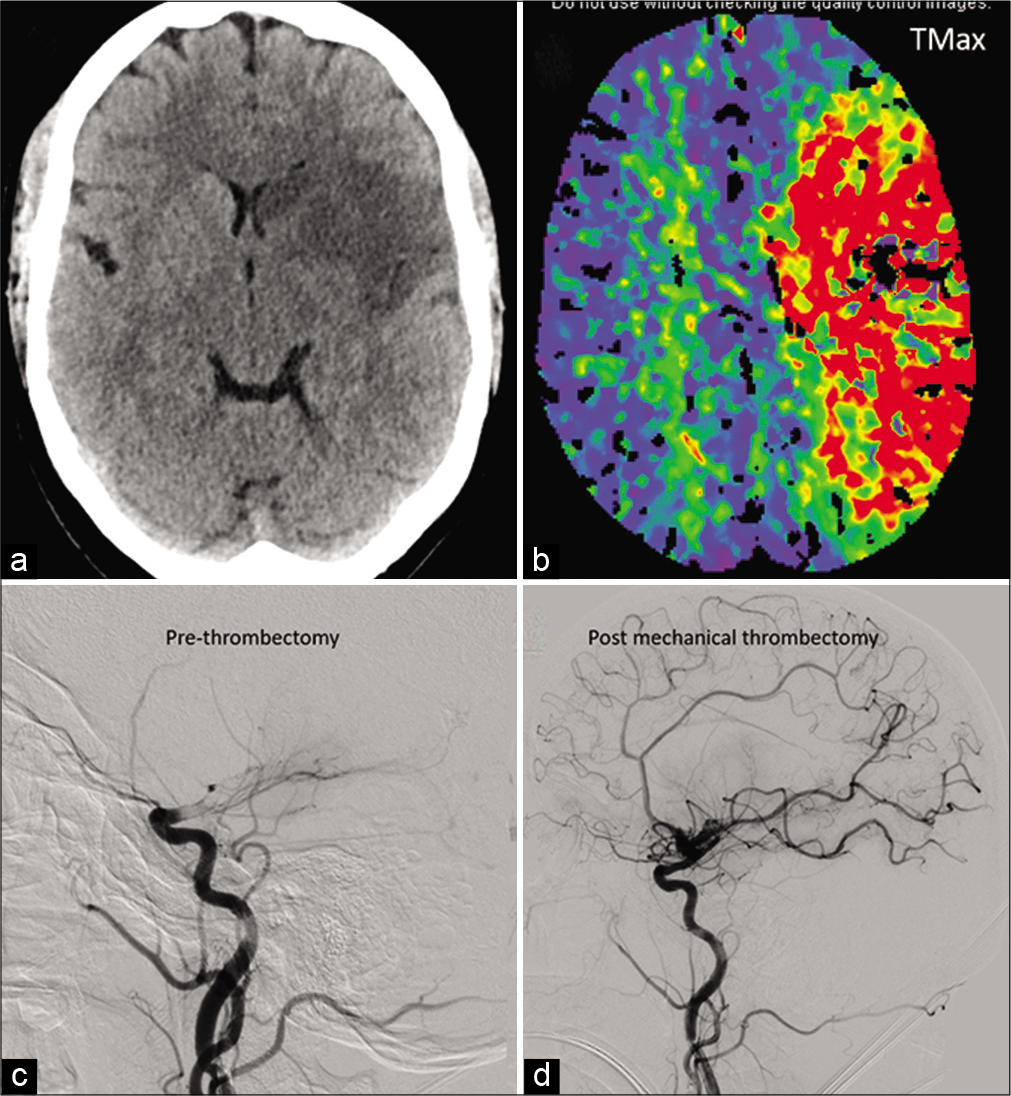 CONCLUSION
NAV disorders can affect all the age groups and may present with variety of neurological symptoms such as headache, neck pain, visual symptoms, hemorrhagic and non-hemorrhagic strokes, mono or hemiplegia, or myelopathy. It also accounts for 15% of strokes in adults and 20–25% of strokes in pediatrics. It may result from various systemic or local etiologies which include collagenopathies, immunological, hematological, hereditary, infectious mechanisms, and idiopathic causes. The clinical presentations together with the imaging findings are crucial for diagnosis of this condition. Role of imaging is both determining the cause and the effects of this diverse group of diseases on vessels and brain parenchyma. Specific imaging findings and "pearls" to their diagnosis are highlighted in Table 4.
| Disease process | Diagnostic pearls |
| --- | --- |
| Arterial dissections | CTA: Narrow eccentric lumen with an increase of the external diameter of the artery. |
| | MR: Enlarged vessel with intramural hematoma with semilunar shaped intramural hematoma. |
| Fibromuscular dysplasia | CTA/MRA: String of beads appearance on arteriography |
| Dolichoectasia | CT: Tortuous, slightly hyperdense, elongated vertebrobasilar artery |
| | MR: Tortuous, dilated, lateral deviation of the vessel with mass effect on brain parenchyma and cranial nerves. |
| Cerebral amyloid angiopathy | Elderly patient with microhemorrhages in the cortical-subcortical region with diffuse white matter T2 hyperintensity |
| Ehlers-Danlos syndrome | Clinical examination: Skin hyperextensibility, fragile and soft skin, delayed wound healing, easy bruising, and generalized joint hypermobility and; family history |
| Marfan's syndrome | Clinical manifestations involving the ocular, skeletal, and cardiovascular systems |
| Giant cell arteritis | Headache, blindness, ESR>100 mm/h, severe irregularities, narrowing and stenosis of the vertebral, internal and external carotid arteries. |
| Takayasu arteritis | CT MRI and MRA demonstrate mural thickening, long segment luminal narrowing of the subclavian and common carotid arteries |
| Polyarteritis Nodosa | CTA/DSA may reveal multiple extra- and intracranial aneurysms and stenosis/occlusion of the vessels |
| Kawasaki disease | children (<5 years of age), coronary artery aneurysms |
| Primary angiitis of CNS | Diagnosis usually by exclusion and on pathology. CTA and MRA may show the "beads on a chain" appearance suggestive of focal segmental narrowing stenosis with normal caliber vessel |
| Systemic lupus erythematosus | Clinical and laboratory findings with lacunar infarcts, watershed infarcts, or diffuse hyperintense lesions within the deep white matter. Arterial and venous occlusions |
| CADASIL | Autosomal dominant, middle-aged patient with migraine with aura, ischemic attacks (transient or strokes), psychiatric findings, and dementia (30–50%) |
| Sickle cell disease | Four angiographic manifestations: proximal arterial occlusion/stenosis, distal branch occlusion secondary to thrombosis or embolism, Moyamoya syndrome, and aneurysm |
| Infection-associated vasculitis | Underlying bacterial or fungal infection with basal exudates with vascular stenosis or narrowing due to spasm |
| Radiation-induced vasculitis | History of radiation with vascular narrowing and white matter changes of leukoencephalopathy |
| Reversible cerebral vasoconstriction syndrome (includes drug-induced vasculopathy) | Varying degree of segmental vasoconstriction with smooth narrowing of the large to medium-sized arteries. Complete reversal within 3–6 months of onset |
Declaration of patient consent
Patient's consent not required as patients identity is not disclosed or compromised.
Financial support and sponsorship
Nil.
Conflicts of interest
There are no conflicts of interest.
Show Sections